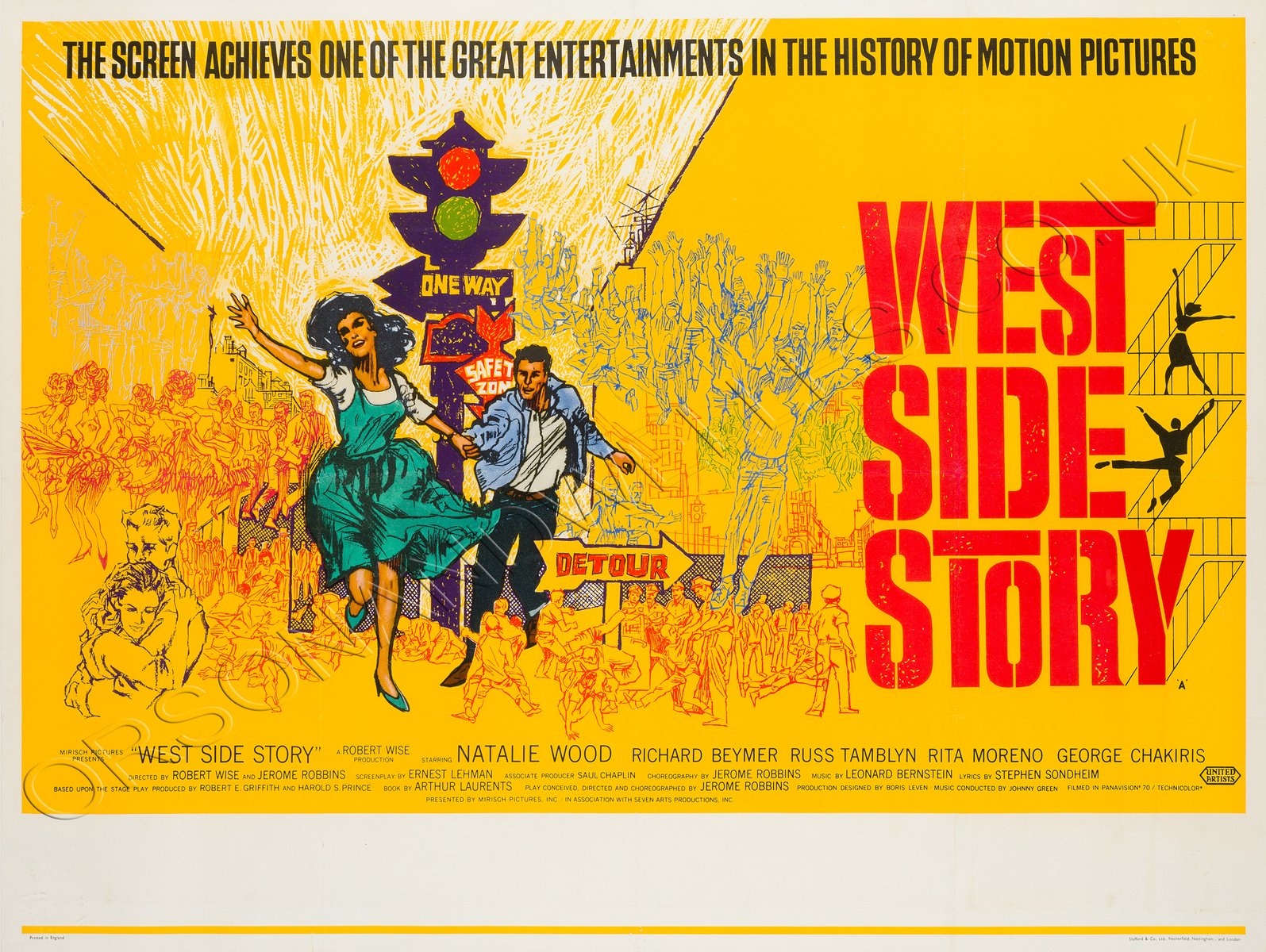 West Side Story, Robert Wise & Jerome Robbins*
Fanny, Joshua Logan
The Guns of Navarone, J. Lee Thompson
The Hustler, Robert Rossen
Judgment at Nuremberg, Stanley Kramer
---
Ugh…full disclosure, I hate hate hate the story of Romeo and Juliet. It's possibly the worst idea for a narrative anyone has ever had. No matter what actors are in it, what time period it's set in, what "exciting twists" are added to the story, it remains the tale of two morons and their idiotic pursuit of "love" (read: a high school crush that lasts somewhere between 20 hours and six days, depending on the version) which costs them, and others, their lives.
And when even these two can't save it, it must be awful.
But people won't let it go, and so Hollywood just keeps going back to that well over and over and over again…James Cameron's pitch for Titanic (1997) was, "It's Romeo and Juliet on a ship," and studio execs couldn't throw enough money at him. I'll see another goddamn version of it in 1968, and then have to sit through a dramatization of its creation in 1998. So, I was not looking forward to this year, simply because I would have to see it again…and more than that, see it win Best Picture and nine other Oscars.
But we'll get to that…fortunately, it wasn't all bad, and the rest of the slate (with one glaring exception) was very, very good. As usual, let's start with the glaring exception…

Fanny, which I'd never heard of before looking up this year's nominees on Wikipedia, is a garbage movie about a garbage person that is only watchable because it co-stars Leslie Caron, Maurice Chevalier, and the great Charles Boyer. The poster promises "all the love stories of the world rolled into one," which is stupid to begin with, but in the end it's just the one love story, about a genuine creep who ruins people's lives and won't stop whining about how mean everyone else is to him.
This creep is Marius, whose father César (Charles Boyer) runs a small bar on the waterfront of Marseilles. Marius is a live-action version of Belle from Beauty and the Beast (1991), moping around sneering (in private, because he's a craven coward) at his boring, provincial life and the boring, provincial people around him. Fanny (Caron) is in love with him, because the script says so and they appear together on the posters. Every time their together, their passion (and the musical score) cannot be contained.
Expressing that passion by rubbing their open mouths back and forth against each other's faces. You know, like humans do.
At the same time, she is pursued by Panisse (Chevalier), an older but wealthy widower who wants to marry her. Marius (unknowingly) knocks Fanny up before running away on a merchant ship, leaving Fanny to accept Panisse's proposal, which he extends even after he knows she's pregnant with another man's child.
That would be a great comedic set-up, but instead, because it's directed by Joshua Logan, the film tries to desperately shoehorn in needless melodrama. Recounting the plot in detail would cost me too many braincells, but suffice it to say that, upon returning, Marius takes every chance to be an asshole about the situation. Because he's young and handsome, he is automatically the protagonist, so the goal of the entire film is to get him and Fanny together so he can be with "his" son. Fanny, meanwhile, stops being a human being very early on and spends about 95% of the story just crying about her love for this steaming pile of goat shit in a sailor's cap.

This sums up the depth of their relationship…physical contact.
The film could have been an examination of what it truly means to be a parent, and while it does address it briefly, it also is clear that the only way the situation can be "right" is if Marius Jr. ends up with his "real" father. This is done by showing the kid as a smaller, shittier version of Marius, who is ready to abandon his family and sail around the world with Marius after having known him for two fucking minutes. And this is meant to elicit an "aww, he's just like his true father!" instead of "What the fucking fuck is wrong with you, you spoiled little brat, that you would run away with a stranger and leave behind your loving parents?!"
It gets worse, even, as Logan will not stop unless he clears the way for Marius as completely and tidily as possible. The story goes out of its way to explain, multiple times, that the marriage between Fanny and Panisse is completely sexless, so that Marius is free to marry Fanny after Panisse's (inevitable) death without always comparing himself unfavorably as a lover to Maurice Chevalier losing face.
Along with a deathbed confession that Panisse was adulterous, just to eliminate any remaining scruples the story may have had about killing him off.
After Auntie Mame, I didn't think I would have a worse experience just trying to slog through one of these films, but damn it, it turns out there's no ground floor in cinema hell…movies can always be worse. What a disaster.
It got better from here, thank goodness…
The Guns of Navarone–following The Bridge on the River Kwai and anticipating The Great Escape, The Longest Day, and others–continued the transition in the focus of Hollywood epics from the Bible to World War II. This one is different, though, in that it is entirely fictional, based in only the loosest possible sense on the Dodecanese Campaign in the Aegean. This made me question why I'm reviewing it here in the first place, as it is not very strong in most areas one would expect from a Best Picture nominee, and the fact that it's not actually a real story meant it could have, and should have, been.
It really had potential, though, and for what it is, it's quite entertaining. The cast is, predictably, very strong; World War II films were all the rage, and ensemble films were just as big, so it was probably very easy to get Gregory Peck, Anthony Quinn, David Niven, Irene Papas, Stanley Baker, and even Peter Grant (yes, future manager of Led Zeppelin) onboard. With a cast like that, it would be very hard to make a bad film, but it turns out it's not enough to guarantee a great one.

Sorry, guys.
The story is straightforward and predictable down to the minute: a group of elite commandos are sent to the fictional island of Navarone to destroy a set of artillery guns that threaten to scuttle the fictional attempt to rescue a fictional garrison of Allied troops from the–let me just check…oh yes–fictional island of Kheros. Every archetype of the genre is present: the stiff-upper-lipped British commander (Anthony Quayle); the experienced but harried spy out for one more big job (Peck); the grizzled, morally-dubious local guerrilla fighter (Quinn); the civilian expert unwillingly pressed into military service (Niven); the tough local resistance fighter (Papas); and, of course, the friend who turns out to be a traitor (Gia Scala).
…the Professor and Maryann…
Anyway, the success of the mission is never seriously threatened, and the audience never doubts that it will come off…as we saw in Twelve O'Clock High, when Gregory Peck takes command, the war is already won. That leaves a lot of room for improvement in the areas of plot development, character study, and maybe a bit of insight into the life of the Greeks under German occupation, but unfortunately, the film skips over most of these opportunities in favor of moving frenetically from one action set piece to another. The pace is exciting, to be sure, but it leaves the whole thing feeling very light, so that when characters we should feel close to die, it's just shrugged off.
The closest we get to any kind of thematic depth is Niven's character, the chemistry expert who openly disdains all military solutions. Throughout the film he tries to hold Peck, Quinn, and the rest accountable for the violence and mayhem their escapade is causing, eventually reaching a point where he concludes they are all no different from the Germans and the success or failure of their mission will not affect the war, nor prevent the next one (and the next one, and the next…). What has the potential to be a truly sobering moment is instead quickly brushed aside so the team can Get On With the Job.
"Never mind, only joking. Let's get back to that lovely war."
In the end, after the guns are (of course) destroyed, he and Peck share a moment together after being rescued by a local ship…which would be the perfect chance to reflect on the mission and decide if, in fact, it was worth it. Just a word or two, chaps? Nope. They just smile and talk about how dashed lucky they were to have pulled it off. I'm not saying Niven needed to go on a pacifist rant about the futility of armed conflict, but just a little bit of introspection would not have been remiss, I think.
Like I said, it's an entertaining and well-made action-adventure war film, but I don't understand why it's here. I mean, I understand it more than Fanny, but still, it doesn't have that little something extra that a Best Picture nominee should have, and it's all the more noticeable when it's this generic. It's one of those movies I could always watch, because it is fun and the cast is brilliant, but Best Picture? And for that matter, J. Lee Thompson as Best Director…and zero acting nominations? Hell, even The Alamo got a Supporting nod last year. I'm sorry, but no. Let's move on.
Speaking of ensemble casts, here's a film with so many big names that they couldn't fit them all on the poster and make it have any connection with the story itself, so they just stuffed a bunch of profiles together and called it a day. If the film was Seven People Watch a Movie on the Same Barcalounger, they could have used the same design.
In the alternate versions, they are at least on a sofa.
Stanley Kramer's Judgment at Nuremberg is pretty damned powerful, telling the (condensed) story of the famous war crimes trials that followed World War II in Nuremberg in 1948. In the real Judges' Trial, sixteen jurists were prosecuted; in the film, in the interests of saving time and set space, this was reduced to four.

And of course, Burt Lancaster counted as 13 judges.
The film clocks in at three hours, and still feels a bit rushed, as they try to cram in every possible viewpoint, argument, and counter-argument about post-World War II Germany as possible. The characters range from unapologetic former Nazis, to victims of the regime, to civilians in denial, to idealistic, anti-Nazi (and, of course, anti-Communist) lawyers and judges, and they all–and I mean all–get their moment in the spotlight. Not that the film is morally ambiguous…it is very clear throughout who is right, and who is German.
Spencer Tracy plays Dan Hayward, the lead judge in the case, who despite a penchant for overturning the prosecution's objections has clearly made his mind up long before the trial begins. He befriends a war widow, Frau Bertholt (Marlene Dietrich), in an attempt to learn a bit about life under the Third Reich, but only seems to succeed in deepening his own prejudices about it. He's out of his depth, by his own admission, and routinely makes legal decisions based more on emotion than precedent…just like the real NMT. It's a great performance from Tracy, who succeeds in making Hayward a sympathetic character despite his inadequacies.

Who supplemented his income with fashion modelling, it seems.
This encapsulates one of the main criticisms the film received at the time of its release; namely that it relied too heavily on emotional appeals and cinematography gimmicks than actual examination of the themes and philosophies it was purportedly investigating. There is a lot of truth in this…every witness is treated to at least one slow, meandering 360º tracking shot, held tight on their distressed, put-upon face, as they struggle to come to grips with what they did–or what was done to them–during the years of the Third Reich. Maybe the camera operators were getting paid for distance traveled?
In which case, well done, lads.
Because it sure loses its impact around the 120-minute mark. The film also severely overuses sudden, dramatic zooms out to reveal the person the witness is implicating and, probably, glaring resentfully at, to be followed by equally sudden, but no less dramatic, zooms in so we are again treated to their startled, distracted visage. I don't think a single legal point was actually scored throughout the film.
The German defense attorney, Hans Rolfe (Maximilian Schell), is tasked with the unenviable job of defending the decisions made by the four judges that aided and abetted the Nazi agenda. Schell plays him extremely well, as a harried, sensitive German citizen desperate to stem the international condemnation of his country and give his people a chance to move on. In the process, however, his defense crumbles into a simplistic "It was legal at the time!" line, to the point where he actually appears to argue in favor of the totalitarian, racist extralegal measures his clients championed…and getting increasingly angry and shouty in the process.
You can almost hear Stanley Kramer shouting, "MORE LIKE HITLER! EVEN MORE!!!"
And, of course, we have Burt Lancaster as Dr. Ernst Janning, a formerly renowned judge now disgraced by his support of the Nazis. Lancaster plays him to stoic, icy perfection, in marked contrast to the flamboyant Elmer Gantry…though seeing his appearance, I can't discount the possibility that he's so calm and collected because he is in fact future Burt Lancaster, who traveled back in time to 1961 from the set of Field of Dreams, still in his "Moonlight" Graham makeup.
Anyway, his character is meant to represent the apologetic Nazi, the one who recognizes the evil that was done and can explain how good, well-meaning people could go along with it, and wants Germany to atone rather than forget. Weirdly, though, Janning begins the film as a silent, contemptuous figure, refusing to enter a plea because he does not recognize the authority of the court…only to suddenly turn on the yakkity-yak and admit his guilt later, just in time to ruin his lawyer's day.
I'm glad he had his say, though, because it sets up one of the greatest finales in movie history, played to perfection by Lancaster and Tracy:
With all that criticism, I think the film has aged very well with the benefit of hindsight and some more distance from the period. While the extremely graphic and genuine footage of concentration camps (including one shot of a mound of naked corpses being bulldozed into a mass grave) is still deeply disturbing, the viewpoints and difficult moral positions involved in the post-war years can be appreciated and considered without (as much) emotional baggage. This includes Rolfe's summation, which immediately follows Janning's utter torpedoing of his entire case:

I love the "Thanks a lot, asshole" look he gives Janning at the beginning.
It's definitely a movie worth watching, and pondering…it's technically brilliant, and each and every performance is powerful and grounded; the film's considerable length means that none of the many, many A-list stars have to crowd each other to be able to shine. This includes a couple of late-career gems from Montgomery Clift (whom I didn't recognize at first, after an automobile accident in 1956 took its toll) and Judy Garland, both of whom received Oscar nominations. As a time capsule, it captures the issues and attitudes of America and Germany in the years following the war, and for that reason alone it is supremely interesting. It's an important, if flawed, picture that probably should have won the top prize.
In the end, out of its eleven nominations it won only two Oscars, with Schell winning for Best Actor and Abby Mannfor Best Adapted Screenplay…it lost all the rest to either The Hustler or West Side Story. Which just happen to be the two remaining nominees for 1961, so…we'll get to those next week!